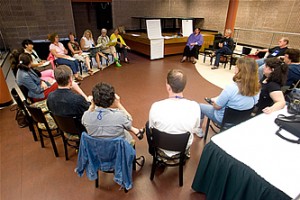 Have fun and gain a valuable tool to keep your relationship on track: the Marriage Meeting.
Increase romance, intimacy, teamwork, and smoother resolution of conflicts with positive communication skills included in this enjoyable class. 
The program will address participants' needs and interests. No public sharing is expected or necessary. Made-up examples will be given to show how to meet challenges and keep a relationship thriving.
Summing up what she took away from a past Marriage Meeting workshop, a wife said, "I've learned that it is better to communicate with intention than without intention." Another participant said, "We gained skills we will use for a lifetime."
This two-session workshop meets Tuesday evenings
March 1 and March 8, 2016, 7:00 pm to 9:00 pm.
at the San Rafael Community Center at 618 B Street. Register at least one week in advance       with SAn Rafael Community Services. $90. per couple. $50. per individual.
To register, phone 415.485.3333.
For more information, phone 415-491-4801 or email mnaomiberger(at)gmail(dot)com.
Marcia Naomi Berger, MSW, LCSW, a psychotherapist in private practice in San Rafael, has led Marriage Meeting workshops in Marin since 2006. She is the author of Marriage Meetings for Lasting Love: 30 Minutes a Week to the Relationship You've Always Wanted (New World Library, February, 2014) . A former executive director of Jewish Family and Children's Services of the East Bay and lecturer at UCSF School of Medicine, she is dedicated to helping individuals, couples, and families gain more fulfilling relationships.