"ART OF MANLINESS" HOST VETS MARRIAGE MEETINGS
Brett McKay and I talked about marriage meetings on his "Art of Manliness" show.
He says that after reading Marriage Meetings for Lasting Love, "My wife and I have regularly been doing marriage meetings for a few years now, and it's been a powerful practice in our marriage. So thank you for your work."
Past guests on this show have included everyone from celebs like Arianna Huffington, Tony Robbins, and Malcolm Gladwell, to academics and authors/researchers, to business folks. I'm honored to be included!
GETTING TO KNOW YOU
"There are three things extremely hard: steel, a diamond, and to know one's self," said Ben Franklin.
It's natural to hold on to a romantic view of ourselves or to just see ourselves as other people define us. Self-understanding is a lifelong challenge. It brings countless rewards in relationships in realizing your dreams.
Therapy helps you to be honest with yourself in a climate of understanding, compassion, and acceptance.
SURVEY SAYS MARRIAGE BRINGS MOST HAPPINESS
"The relationship of marriage to happiness is simple as can be. There's hardly anything better than a good marriage for promoting happiness and nothing worse than a bad one," states Charles Murray, author of  Coming Apart: The State of White America, 1960 - 2010. (Page 256)
MARRIAGE MEETINGS — NOW AN AUDIOBOOK TOO!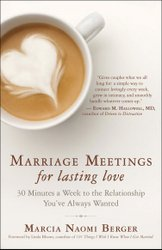 In today's busy world, scheduling time together, paradoxically, may well be the best way to keep your relationship thriving.
Marriage Meetings for Lasting Love: 30 Minutes a Week to the Relationship You've Always Wanted, tells step-by-step how to reconnect with your spouse every week by holding a short meeting, using an agenda that covers all bases.
You can find it in paperback, ebook and audiobook format at Amazon, at Barnes & Noble for paperback and ebook, at your local independent bookstore, or as a free audiobook via Audible. (continued)
DEBUNKING MARRIAGE MYTHS
"…there is nothing either good or bad, but thinking makes it so."
---Shakespeare (Hamlet)
If your partner tells you, "We have a problem," does your chest tighten? Do you forget to breathe? Do you jump to the conclusion that something is terribly wrong with the two of you as a couple, so wrong that it may be impossible to fix?
If this sounds like you, you are probably being duped by one of the harmful marriage myths that will be described below. (continued)