At long last, Marriage Meetings for Lasting Love: 30 Minutes a Week to the Relationship You've Always Wanted, is about to see the light of day thanks to the dedication and skill of its awesome publisher, New World Library.  You can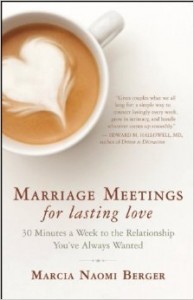 order the book or eBook here.
The small print on the book's cover is Edward M. Hallowell, M.D.'s endorsement: "Gives Couples what we all long for: a simple way to connect lovingly every week, grow in intimacy, and handle whatever come up smoothly."
Marriage meetings are a proven way to foster intimacy, romance, teamwork, and smoother resolution of issues.  The book tells, step-by-step, how to conduct each of the four-part meeting and how to use positive communication skills that promote successful meetings. Detailed stories about how several couples benefited from holding the meetings are also included.